Easy Homemade Popsicles: Orange Pink Lemonade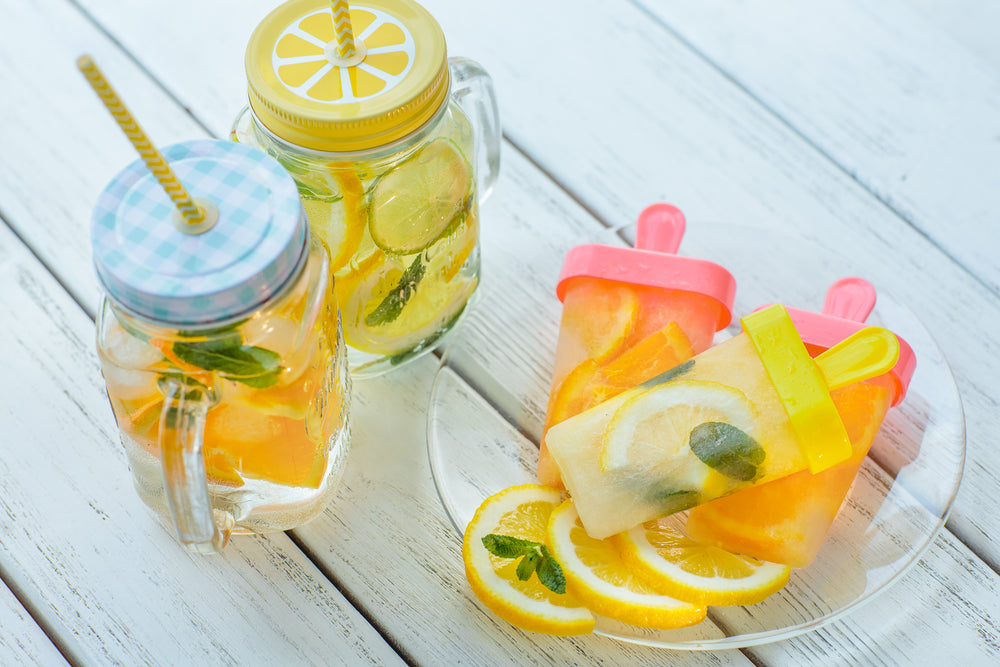 Temperatures are on the rise around here which means we're starting to take advantage of anything we can to stay cool. W is a huge popsicle fan and would eat a box a day if I let him. So making our own easy homemade popsicles was a no-brainer when I started thinking about ways to keep him busy!
I love that this easy activity creates a tasty frozen treat at the end. Plus, it's so flexible that the flavors can be mixed and matched. It's perfect for kids of all ages to get involved and get creative!
You can make an ombre pattern of flavors like I did or you could alternate colors for striped popsicles. I've given the directions for creating the ombre type look but you would follow the same process for stripes, just alternating the colors and freezing between each layer.
Since it's so easy to pick up different flavors of drinks, it's really simple to mix and match! This makes the possibilities for summer endless!
What you need:
Small Paper Dixie Cups or Ice Pop Mold
Wooden Craft Sticks
Orange Flavored Drink (Orange Juice, Kool-Aid, Powerade, Hawaiian Punch, etc)
Pink Lemonade
What you do:
Pour a layer of your orange drink into the bottom of a Dixie cup or your popsicle mold. You will use one cup for each popsicle.
Put in the freezer for about 30 minutes, until the layer has started to freeze, but isn't quite solid.
Remove from freezer and insert wooden craft sticks.
Return to freezer and freeze until layer is solid.
Add a layer of pink lemonade drink. Put in freezer for about 30 minutes, until layer has started to freeze.
Add in some orange drink and allow to sit for a minute so that it can mix together. Return to freezer and freeze until solid.
Add a final layer of pink lemonade and freeze until solid.
Serve immediately!
These popsicles are perfect for a hot summer day! I cannot wait to try my hand at making rainbow popsicles soon!
___
Blogs are not written by MNC staff.
Original article can be found here: https://thesimpleparent.com/easy-homemade-popsicles-orange-pink-lemonade/