5 Tips for Postpartum Nutrition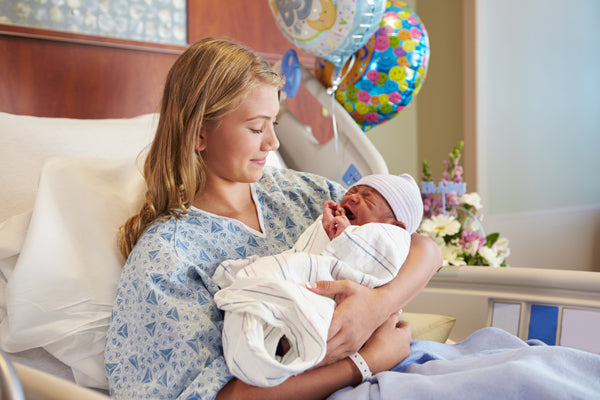 The time following birth, also know as Postpartum, comes with many ups and downs! You're likely exhausted, emotional, feeling extremely overwhelmed and not thinking about food and nutrition! This is where we come in! Postpartum Nutrition is extremely important to not only nourish your baby, but also to take care of yourself and heal from labor and delivery. Today we are going to share 5 Postpartum Nutrition Tips that you can begin to implement into your routine!
POSTPARTUM NUTRITION TIPS
INCREASE YOUR VEGETABLE & FIBER INTAKE
Nutritious and fibrous foods are crucial to keeping your body well nourished, full and maintaining a healthy digestive system. This increase will promote regular bowel movements as well as keep your blood sugars from spiking throughout the day. The average American consumes half of the daily recommended amount of fiber, only about 15 grams! Aim to consume 25-40 grams daily. Some incredible, high fiber foods include oats, beans, whole grains, apples, oranges, strawberries, broccoli, dark leafy greens, potatoes, beets and carrots!
CONSUME ENOUGH PROTEIN
Did you know that moms who are nursing need more protein? The average protein intake for women is about 46 grams and nursing moms need about 65 grams per day! Protein is so important postpartum to help recover and repair all your cells from giving birth. Your body just went through a lot and needs all the assistance it can get! Your baby will also benefit from your protein intake because they need it for optimum cell growth and immune function. Choose lean sources of protein such as beans, tofu and yogurt as well as chicken, fish and eggs if you consume animal products.
STAY HYDRATED
Hydration is key to avoiding constipation and it also supports breastfeeding. You're already extremely tired from everything motherhood brings and dehydration can add to that by making you feel sluggish and slowing down your metabolism. Aim to consume 12, 8 ounce glasses a day if you are breastfeeding. One easy way to achieve this goal is to keep drinking until you are no longer thirsty and your urine is clearer in color.
LIMIT ADDED SUGAR
Added sugar causes your glucose levels to rise and plummet. This is exactly what you don't want to happen while trying to stay awake and nourish your baby. These sugar spikes and crashes can also effect mood and hormones, which are already all over the place. Added sugar also takes a toll on your immune system, which you want in good condition to stay healthy while taking care of a newborn. Food labels have transitioned to showing the amount in grams of added sugar in food, so check these out before buying your convenience foods.
FIND WAYS TO RELIEVE STRESS
Lack of sleep and a new schedule, can make you feel overtired, overworked and completely stressed! Finding ways to relieve your stress is such a crucial aspect to taking care of yourself postpartum. Some simple ways you can do this are to get outside for some fresh air, take a short walk, do some yoga or stretching, have a chat with a good friend to reconnect, put on some of your favorite music or take a moment to journal down all your thoughts and emotions. Implementing some of these ideas throughout your week will help relieve stress and give you some moments for self care! If you are struggling with postpartum depression or anxiety that is out of control, reach out to someone you trust as well as a medical care provider to get some help. It is so important to take care of yourself and know that you are doing a great job!   Original article can be found here: https://www.healthygrocerygirl.com/blog/5-tips-for-postpartum-nutrition/