Thanksgiving Turkey Veggie Tray Kids Can't Resist Eating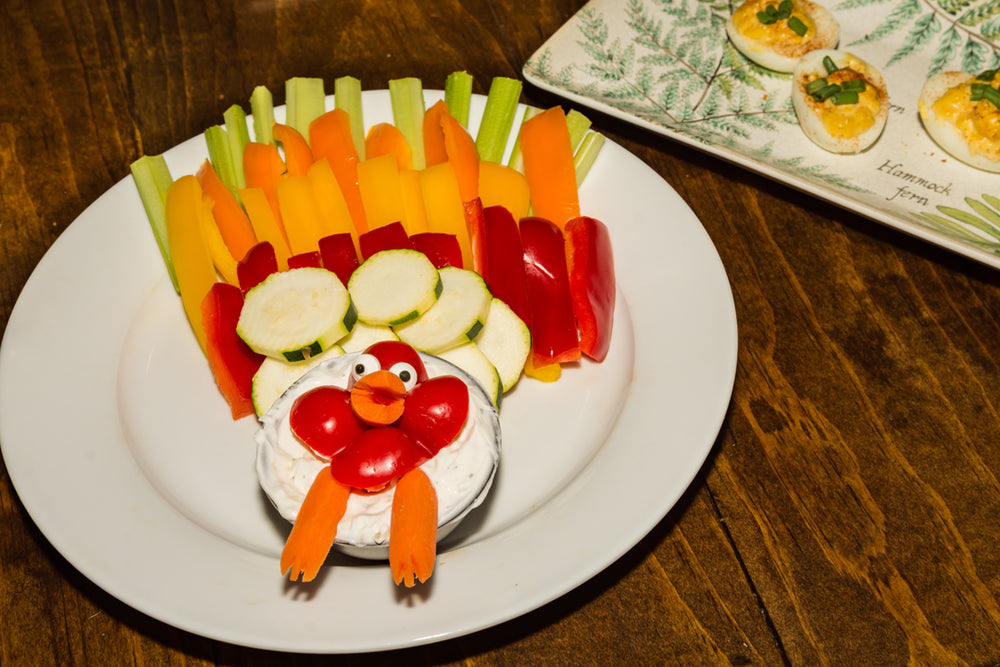 Your kids will giggle with delight at this Thanksgiving turkey veggie tray, and it's an easy way to get them excited about eating vegetables! You can also use hummus or baba ganoush to make this an easy dairy free and vegan appetizer.
SUPPLIES FOR YOUR THANKSGIVING TURKEY VEGGIE TRAY
Here's a few suggestions for making your Thanksgiving turkey veggie tray. By clicking one of these links before making ANY purchase on Amazon, we get a small percentage of your purchase, without it costing you anything extra! Thanks for helping to support our family business.
THANKSGIVING TURKEY VEGGIE TRAY – KID FRIENDLY THANKSGIVING APPETIZER
Thanksgiving day can involve a LOT of waiting around for kids. There's waiting for food to cook, waiting for guests to arrive, waiting for Grandpa to finish his 15 minute blessing over the food (true story!). All that waiting can easily lead to crankiness, which is where kid friendly appetizers come in.
Grab a round platter, stick a small bowl on one side, give the kids some giant bags of veggies, and let them go to town.
You can print off a photo for a guide, and then walk away and take care of dinner prep while your kiddos make the appetizer.
Don't forget to give them permission to eat as many veggies as they want while making the Thanksgiving turkey veggie tray.
Once guests start to arrive, the kids get to show off their creation, and then dig in for more veggies!
HOW TO MAKE A THANKSGIVING TURKEY VEGGIE TRAY
This turkey veggie tray is so simple, it almost seems silly to give you instructions, but here's a few tips to help make it easy for your kids.
Use veggies that can lay flat:

 

While you can definitely use vegetables like broccoli, cauliflower, or cherry tomatoes, using veggies that can lay flat will make it much easier for your little ones to assemble the turkey veggie tray.
Use lots of color:

 

The different colors in the tail make the presentation of the Thanksgiving turkey veggie tray so impressive. Get creative with jicama sticks, carrot sticks, different colors of bell peppers, cucumber sticks or slices, sugar peas, celery. You can use whatever vegetables you think your kids will eat, just make sure to have a variety of colors.
Carve the turkey head and legs for them:

 

Unless your kids are teens, it's safest for you to make the turkey's head and legs for them. You can totally prep them the night before and keep them in the fridge. That way you don't have to think about it on Thanksgiving day.
If your kids make their own Thanksgiving turkey veggie tray, we'd love to see it! Post a picture on our Facebook Page, or tag @EatingRichly on Instagram.
INGREDIENTS
1 red bell pepper, look for one with three bumps on the bottom
bag of sugar snap peas
bag of baby carrots
1 English cucumber, thinly sliced, or two cocktail cucumbers
Ranch dressing (or your favorite veggie dip
2 black peppercorns
INSTRUCTIONS
Place a small glass bowl at the bottom end of a round platter.
Slice the bottom off of the bell pepper and set aside. Discard the stem and seeds, then slice the rest of the pepper into sticks.
Arrange sugar snap peas all the way around the outer edge of the platter.
Arrange bell pepper sticks around the platter, slightly overlapping the inside ends of the sugar snap peas.
Arrange baby carrots around the platter, slightly overlapping the inside ends of the bell peppers.
Arrange slices of cucumber in a pile in the center of the carrots, just above the bowl.
Fill the bowl with dip, then place the bell pepper end on top of the dip, cut side down.
Cut the ends off of a baby carrot, then cut a triangle out of one end and place it in the center of the bell pepper end for a beak.
Place to peppercorns above the carrot for eyes.
Slice another baby carrot in half lengthwise and carve into legs with feet. Place them on top of the dip at the bottom of the bowl.
Cover and refrigerate if not serving within the next hour.
Blogs are not written by MNC Staff.
Original article can be found here: https://eatingrichly.com/thanksgiving-turkey-veggie-tray/