Spooky Leaf Ghosts for Halloween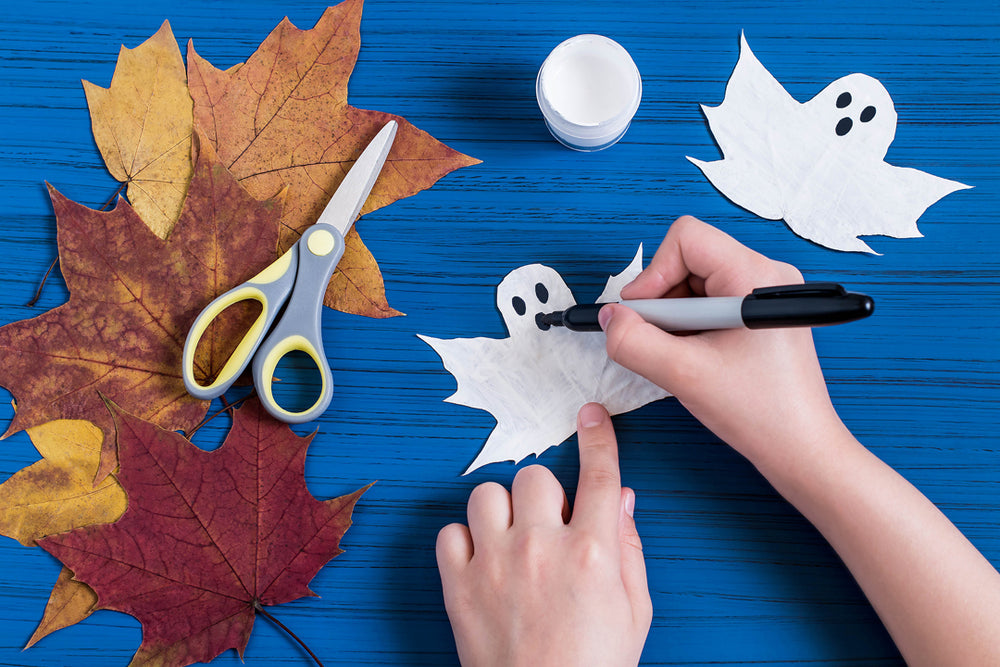 These leaf ghosts are going to look amazing hung around your home on Halloween.  They are very easy to make with the kids and you should have most of the materials available to make them!
Your kids will love making their own ghost creations. Enjoy creating ghosts with different leaf shapes and sizes, and encourage your child to draw many faces. You can have sad ghosts, angry hosts, happy ghosts and super scary ghosts.
What you'll need
---
Leaves
White acrylic paint
Paint brush
Black permanent marker
String
How to make Leaf Ghosts
---
Collect leaves with your children. Look for many different shapes and sizes. If you're going to make a leaf ghost garland, I'd also suggest you look for leaves with stems.
Paint the whole leaf white. You may have to paint it twice if the it's not very good quality paint. 
Once your white paint is dry you can use black paint or a permanent marker to draw on your ghost faces. You can see the difference below. The permanent market is slightly more precise. It's really up to you which effect you would prefer! 
Tie the rope to the stem of the leaves and hang them up outside. They'll look incredible as a decor for Halloween. 
I quite like that you can make these leaf ghosts quite scary or more cartoon like. You can choose which ones to create depending on your child and how they cope with scary items during Halloween.
We displayed our leaf ghost garland up around a tree, a little like you would do with fairy lights for Christmas. Actually, those two combined might look quite spooktacular at night.
What are you waiting for? Go outside with the kids and start collecting all those wonderful leaves that are readily available at this time of year.
Blogs are not written by MNC Staff.
Original article can be found here: https://mothernatured.com/nature-crafts/leaf-ghosts/