Simple Fall Activities for Toddlers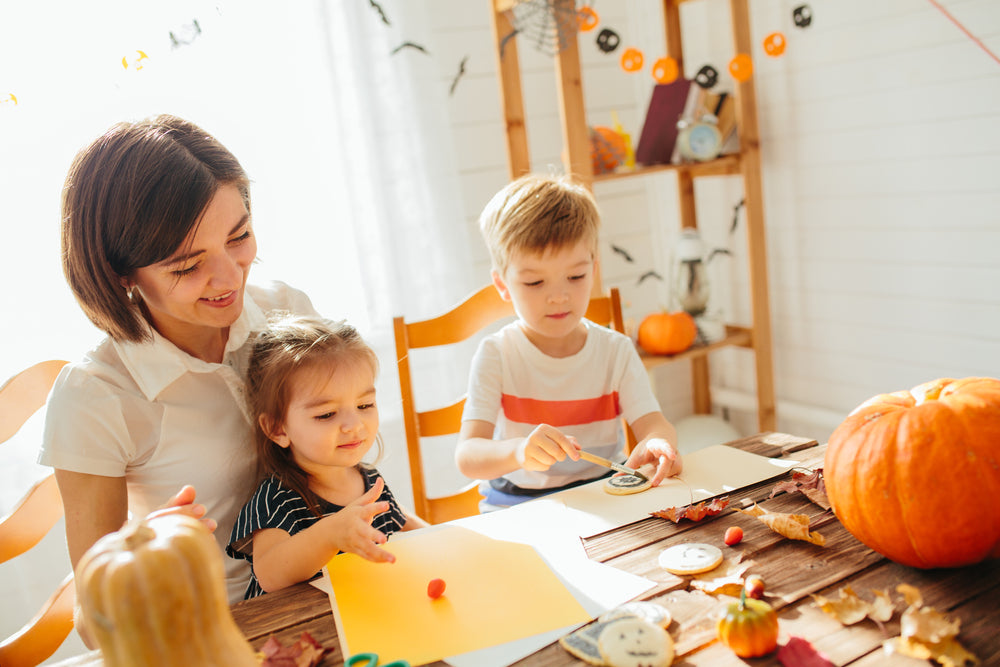 The thing to remember about toddlers is that they LOVE repetition... so although you might be chomping at the bit to do something new and exciting every day, they love to do the same things again and again and again.
With toddlers you can skip the alphabet part and just have them match the acorn pieces to the acorn shapes on the large piece of paper. Mix it up by playing the same game using leaf shapes.
Use a mini bundt pan to make these into pumpkins or just make regular pumpkin bars in a 9x13 pan. Either way, kids LOVE to help with baking! Plan on this being messy but so much fun! My toddlers especially love to pour in cups of flour or help with mixing! We probably make these once a week during the Fall.
They have a fun texture and shape so are fun to paint! Add some baking soda and vinegar to turn it into a fizzy painting activity. Fizzy painting never gets old with my kids!
You can either cut grooves into your apples or use corn on the cob holders for helping while you stamp!
Grab a large sheet of easel paper and put it down and start painting! Enchanted Homeschooling Mom shares how she does painting with corn HERE.
My kids love to make and eat these! You can use fruit loops, large pom poms, stickers, buttons, sequins, etc. Craft Morning shares her awesome fruit loop tree tutorial HERE.
This is probably the simplest activity you can do. Sometimes it is just nice to keep things a little less messy which is why we love to paint inside baggies. You can do any autumn shapes, but we especially love to use cut out leaves. You could also use REAL leaves!  Tutorial HERE.
The scents, tastes, and textures of Fall are my favorite! You can make a really simple Fall sensory bin like I made for my littlest one or you can make a more complex sensory activity like some of these listed below. Make sure you pick materials that work for your child. If your child likes to eat small objects, make sure to use larger ones.
Cathy at Nurturestore shares how she makes Fall scented playdough using cloves, cinnamon, nutmeg, and ginger. Yum! I love these smells. Fall Playdough tutorial HERE.
We love to decorate at our house for Fall using homemade creations. Use real leaves or fabric leaves and other favorite embellishments (pom poms, large buttons, scraps of paper, etc.) to create a Fall wreath for your child's door or even your front door! You could also trace their hands and make a Fall colored handprint wreath.
Try a leaf hunt! (You can even add in some letters)