Pom Pom Caterpillar Craft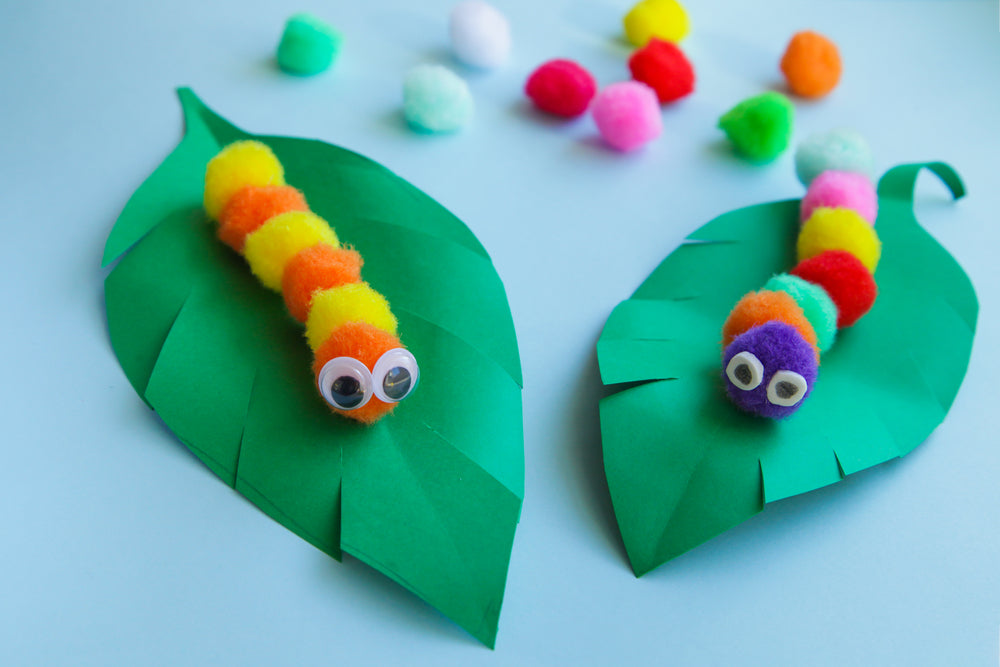 This pom pom caterpillar craft is a must for toddlers and preschoolers! It is the perfect very hungry caterpillar craft to make after reading this classic story. It features a caterpillar on a green leaf in which the caterpillar has munched bites out of. Just follow the step by step directions below to make your very own caterpillar craft!
This very hungry caterpillar craft is perfect for a preschool classroom, a fun playdate, or some after school fun! Grandparents will love doing this with little ones too. It is such a fun and exciting caterpillar craft.

What I love about this is that it is a fun and easy craft that is great for making after reading the story of 'The Very Hungry Caterpillar', by Eric Carle. This is one of our favourite books and we read it frequently - which makes this very hungry caterpillar craft so much fun!

Scroll down below to get started making your caterpillar craft!
Caterpillar Craft
Pom Pom Caterpillar craft - Supplies
Coloured craft paper - green
Mini pom poms - colours of choice
Small googly eyes
Scissors
Craft glue
Hole punch
Directions to make your pom pom caterpillar craft
STEP 1: Gather your supplies
Before you get started, gather up all your supplies for this fun caterpillar craft! Have your toddler or preschooler pick out their favourite colour pom poms to use for their caterpillar.
STEP 2: Prepare the paper leaf
To get started, cut out a leaf pattern from the green coloured craft paper. You can freehand the leaf or use a
leaf template
. Cut it big enough so that it will be slightly bigger than the caterpillar. 
STEP 3: Punch out holes
Next, use the hole punch to punch 4-6 holes out on the paper leaf. This will act as the portions where the very hungry caterpillar has taken a bite out of it!
Use a sharpie to draw the leaf pattern lines, if preferred.
STEP 4: Assemble the caterpillar
Have your toddler or preschooler select the pompoms they'd like to use for their very hungry caterpillar. This is a great chance to talk about color sorting or sequencing.
Next, glue 4 of them together side by side (or more if you'd like!). Put them aside and allow time to dry.
Once you've done that, glue 2 googly eyes on one of the pom poms on the end. Place them toward the top so they're visible.
TOP TIP: If you are short on time or don't want to wait for the glue to dry use glue dots instead. 
STEP 5: Finalise caterpillar craft
To finish up your caterpillar craft, glue the caterpillar to the paper leaf and allow time to dry. Repeat these steps to make even more fun caterpillars! You might also like our
 

bead caterpillar craft
. 
We hope you enjoyed this 'The Very Hungry Caterpillar' Craft! It is such a fun caterpillar craft for toddlers and preschoolers to do after reading this fun story. You can even make lots of different caterpillars for some added fun and it's a great playdate activity. Be sure to check out our 
list of bug books
 that includes 'The Very Hungry Caterpillar!
___
Blogs are not written by MNC staff.
Original article can be found here: https://www.messylittlemonster.com/2020/01/caterpillar-craft.html