Baby's First Thanksgiving: 7 Tips for a Special Day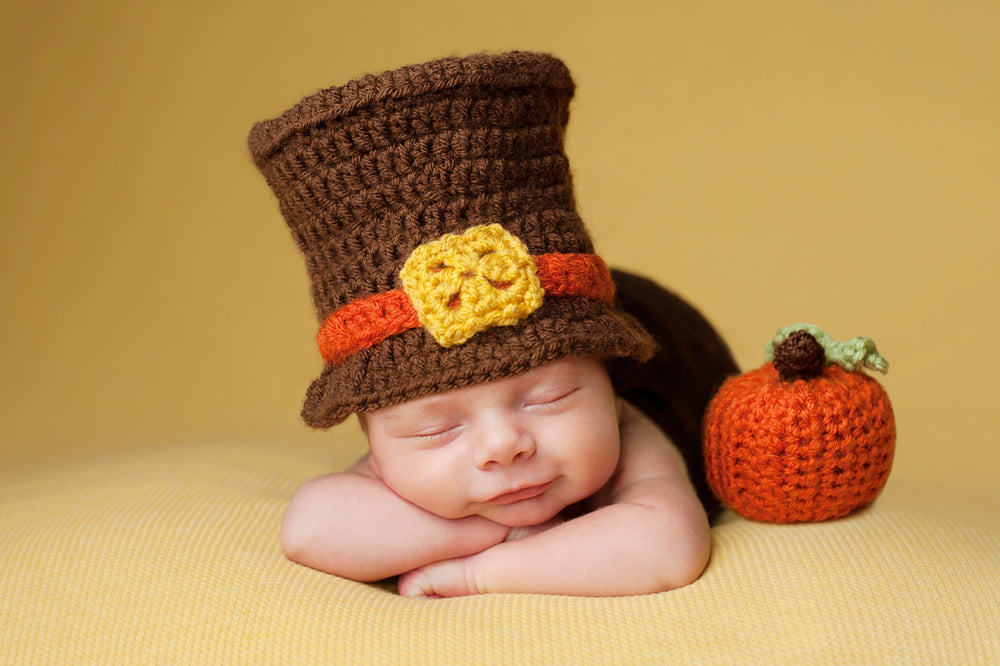 Thanksgiving is all about gratitude and giving thanks. If you have a new baby in the family, there's a lot to be thankful for this year. Babies are, after all, one of life's greatest joys, and Thanksgiving is often the first time extended family and friends have a chance to meet your new little one. 
The holiday season is the perfect time to start some special traditions you and your family can enjoy for years to come. Here are some ways to make your baby's first Thanksgiving a day you'll treasure forever.
1. Start a Thanksgiving family tradition.
Spend time having everyone around the dinner table, young and old, share favorite holiday memories and something for which they are thankful. As a parent, this tradition is a great way to model thankfulness and gratitude for your children. Have fun as a family watching the Macy's Thanksgiving Day Parade, playing a game of flag football, making a cute Thanksgiving craft or participating in your local Turkey Trot. Volunteering as a family is also a great way to bond, create lifelong memories and give back to your community. Creating traditions like these for your family will make Thanksgiving a day to look forward to each year. 
2. Record a Thanksgiving video for your baby.
Make a video keepsake of your baby's first Thanksgiving to capture all the moments of the day, including baby's reaction to the giant turkey, getting his or her first bite of the Thanksgiving feast, or napping with a grandparent after dinner. Pass your phone around and ask friends and family to record a quick message for your baby in the future. These special messages from loved ones can be turned into a video your child will enjoy watching for years to come. 
3. Give your baby a taste of Thanksgiving.
If your baby is old enough to enjoy tasting a few foods, take some time ahead of the big day to prep and puree a few Thanksgiving food favorites, such as sweet potatoes, pumpkin and squash. Put the food in containers with labels and bring them along to your Thanksgiving festivities. Before you sit down to eat, take a few minutes to feed your little one. Be sure to have someone snap photos of your baby taking their first bites of traditional Thanksgiving foods!
4. Celebrate with the perfect baby's first Thanksgiving outfit. 
Celebrate your little one's first Thanksgiving by picking out a cute outfit for baby, or dress the whole family in a cute matching fall outfit. This two-piece Thanksgiving bodysuit pant set from Carter's paired with the matching bib is super soft and simply adorable. And don't forget the accessories! This aww-dorable Thanksgiving Turkey Booties puts the finishing touches on any turkey day outfit. After the Thanksgiving feast, dress your little turkey for an afternoon nap in festive cotton Thanksgiving PJs.
5. Capture a cute baby Thanksgiving photoshoot. 
Plan your own mini baby Thanksgiving photoshoot with the whole family and set the stage with all the colors of fall: orange, brown and yellow. Pick and choose baby's first Thanksgiving outfit. Incorporate fallen leaves, pumpkins, mums and hay to create a beautiful and easy backdrop for your Thanksgiving baby pictures. 
If baby's cousins are local or visiting from out of town, stock up on Carter's Cousin Squad shirts and bodysuits ahead of time so you can snap an adorable coordinating photo of all the kids together. And be sure to get a full family photo with all your loved ones and the new baby! Simply gather everyone around and place baby front and center. These memories are priceless, and ones worth preserving for your little one. 
6. Don't get too focused on "perfection."
Don't let the excitement and anticipation for one of your baby's first holidays lead to unnecessary pressure and stress. Remember that some things are out of your control, and if dinner runs late, naps don't go as planned and even if the turkey is dry, the most important thing is spending time with the ones you love. Take time to be present in every moment on your little one's first Thanksgiving, and don't sweat the small stuff. 
7. Make time for a nap. 
The Thanksgiving Day nap is practically a tradition in itself. After filling up on turkey, stuffing and pumpkin pie, take a little time to kick back and relax with your little one. Cuddle up for an afternoon snooze and you and your baby will be ready to enjoy the remainder of the day spent celebrating with loved ones. 
No matter how you choose to celebrate Thanksgiving, take some time to soak in every moment of your baby's first Thanksgiving. These memories will last a lifetime!
Original article can be found here: https://www.carters.com/content/carters/us/en/life-with-kids/special-moments/baby-s-first-thanksgiving--8-tips-for-a-special-day.html