7 Free Thanksgiving Activities for Kids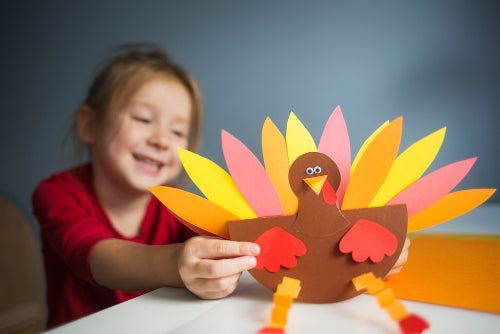 These fun (and free!) Thanksgiving activities for kids will keep them busy and occupied while you add the finishing touches to the holiday meal. Most of the activities can be done by themselves but a few you'll need to help them a little with or put an older sibling to the task. They use items you already have on hand, and for the most part, they don't require you to make any additional purchases.
Whether you have a group of kids or just one child there are thanksgiving activities below that will work for everyone. You'll find games, educational worksheets, printable cards, coloring pages, recipes for the kids to make, and more.
1. Free Thanksgiving Games
If you're looking for some Thanksgiving activities for kids to get them up and out of the house, or just quiet at the computer, then you'll want to check out this list of Thanksgiving games.
There are a lot of fun Thanksgiving activities listed here such as group games and educational games, as well as links to some online Thanksgiving games. It's a great way to keep them occupied and having fun.
2. Decorate a Thanksgiving Card
Have your child create their very own Thanksgiving card that they'd like to decorate and send to someone they love to wish them a "Happy Thanksgiving."
The real Thanksgiving activity comes in when your child then gets to decorate the Thanksgiving card and then mail it out or give it to a family member or friend. It's also a great way to teach them the meaning of the holiday.
3. Thanksgiving Recipes That Kids Can Make
A great Thanksgiving activity for kids is for them to roll up their sleeves and help make part of Thanksgiving dinner or just a Thanksgiving-themed snack.
There are many easy Thanksgiving recipes for kids so they can make things like pie, appetizers, bread, biscuits, candy, and more. They'll be so proud that they helped with the meal this year.
4. Homemade Butter in a Jar
A Thanksgiving activity that falls along the lines of cooking is letting kids make homemade butter in a jar. It can almost be an independent activity, and kids get to learn a little about science along the way.
They can make the homemade butter in the days before Thanksgiving and then it can be served with Thanksgiving dinner.
5. Take Them on a Turkey Trot
Most cities have turkey trots on Thanksgiving morning. Since these are short races, they're perfect for the whole family. These turkey trots are also a great way to burn off some calories before the big turkey dinner.
If your city doesn't have one, consider hosting your own for your family or neighborhood.
6. I'm Grateful For...
I'm Grateful for... is a Thanksgiving activity that will help the kids take a breather and focus on what they're grateful for this Thanksgiving.
This free printable from Thirty Handmade Days gives kids the opportunity to put their name, date, who they're grateful for, what they're grateful for, and why they're grateful. It also doubles as a coloring sheet.
7. Let the Kids Decorate the Table
Kids love to help with Thanksgiving and letting them set and decorate the table will fill them with pride in a job well done.
You can give smaller children a simple job, like placing the napkins and silverware, while older children can help you out by completely setting the table themselves. Teens can even help out by designing a tablescape and being in charge of all the Thanksgiving decorations.
  Written by Stacy Fisher Original article was published here: https://www.thespruce.com/free-thanksgiving-activities-for-kids-1356358