5 Tips for Flying With Kids Over the Holidays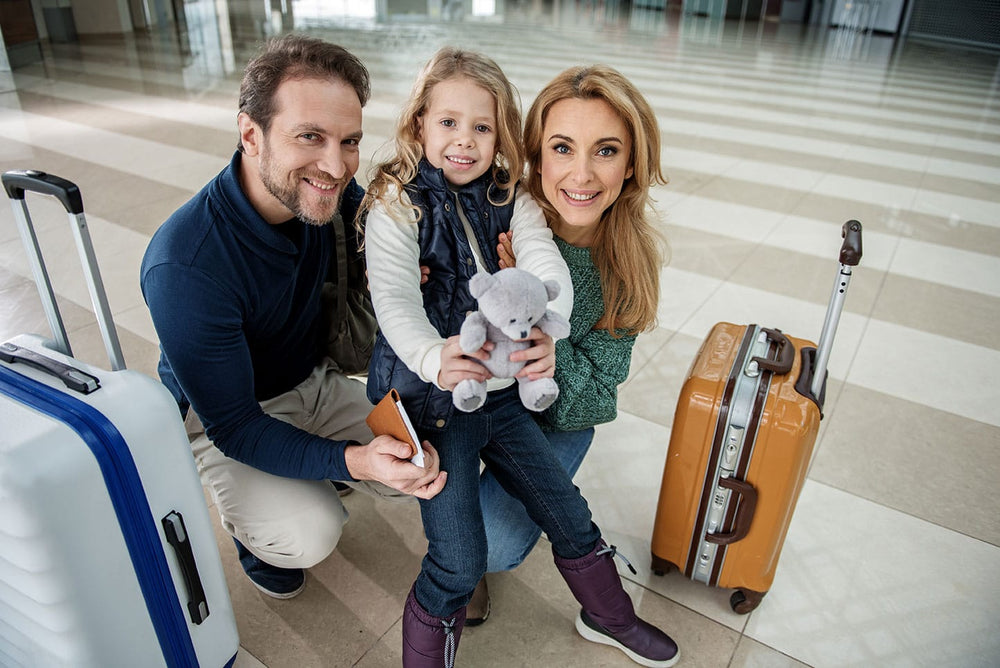 Heading to the airport with the kids this holiday? Avoid unnecessary turbulence with these smart strategies!
1. Sign Up for Precheck
You know to arrive at least two hours before domestic flights, but you've also likely heard the security-line horror stories that happen when you hit the skies with 6 million or so other holiday travel buddies. The best way to ensure an easy experience is to sign up for the PreCheck program from the Transportation Security Administration (TSA), which lets you (and kids 12 and under) take a VIP line that is generally five minutes or less. Fill out an application at
the TSA website
and set up an appointment for an in-person background check. Once that occurs, it usually takes about five business days to get your clearance. It costs $85 per adult—but for five years, you and the kids can dodge the lines, keep all your clothes on, and not have to unpack toiletries or computers. That's 100 percent worth it!
2. Wrap When You Arrive
It doesn't matter how beautifully you tie a bow—the TSA can still make you open your gifts at security. They also have the right to open wrapped presents in checked luggage. Consider sending presents ahead, suggests Jacqui Lewis, president of Audley Travel in Boston. Or just wrap them once you get there. Thinking of bringing edible surprises? Stick to hard foods like Christmas cookies; those jars of your famous cranberry sauce are considered a liquid, and so must follow the less-than-3.4-oz. rule and be stored in a one-quart zip-top bag. (Consult the "Can I Bring It?" tool if you have questions about other foods.)
3. Board (Almost) Last-Minute
Santa is coming in a matter of days and you're going away—no wonder it's hard for kids to settle down in their seats. So what can you do? Spend less time there. "Never take advantage of early boarding! Why would you subject your child to an extra 30 minutes or more on the plane?" says Genevieve Shaw Brown, a travel and lifestyle editor at ABC News and mom of three in New York. Board as late as you can and run your kids ragged before the flight. (If you have a bulky carry-on like a car seat, send one parent ahead and have one wait it out with the kids.)
4. Greet the Grumps
If you've flown with kids before, you may have encountered "kid-o-phobes": fliers who huff and complain as soon as they see children seated near them. There's no remedy for rude people, but a good tactic is to kill 'em with kindness and introduce your kids by name (it's harder for them to be curmudgeonly when you're not random strangers). Then invite them to talk to you directly if there's any kind of problem. "Smile," agrees Sarah Gavin, mom-of-four and vice president of global communications at Expedia in Seattle. "You'd be surprised how far it goes." Or follow Lewis's example: "I bring disposable earplugs and hand them out if anyone complains."
5. Get the Insurance
Booking nonstop flights that leave early in the morning may help you avoid regular congestion delays, but even the best-prepared travelers can have their plans squashed by foul weather. You'll want to start by being financially prepared for this possibility. Travel insurance can be a great way to protect yourself if a nonrefundable trip gets canceled. (Basic family policies start at $130 for a weeklong trip.) Then keep an eye out for winter storms in the days leading up to your departure. Airlines sometimes lift penalties for changing your tickets when extreme weather is predicted, so jump on the opportunity to fly earlier if possible. If your vacation is completely derailed, try to make the best of it by having a staycation at a hotel in your area. (If it has a pool, we bet you'll all get a smile out of it!) By Melissa Klurman Original article can be found here:
https://www.parents.com/parenting/better-parenting/advice/5-tips-for-flying-with-kids-over-the-holidays/