4th of July Recipes for Kids: Easy Red, White and Blue Snacks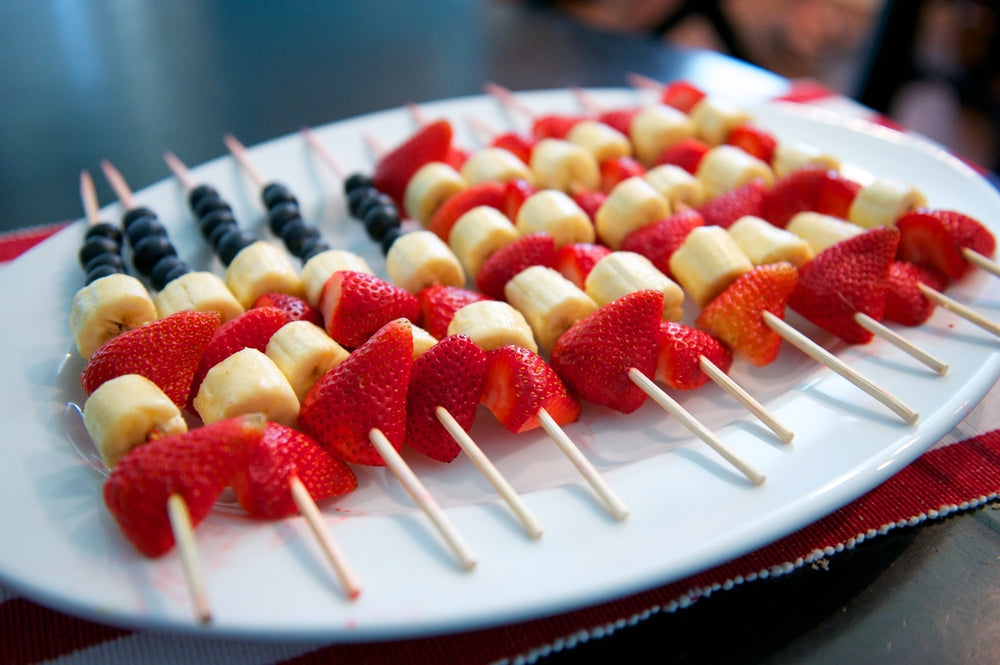 In America, July 4th is a popular day for parties and celebrations to show their patriotism to their country. If you signed up to host a stellar party or volunteered to bring a treat to a party then we have got you covered. We have discovered 20 amazing red, white and blue snacks that will have the stamp of approval from those picky eaters, the kids.
Better yet, these recipes are so fun the adults will love them too. We have found snacks that range from sweet to savory and are a wonderful addition to the July 4th theme. These recipes are bound to make you the talk of the party.
1. Edible Flag
If July 4th is approaching too quickly for your liking you'll want to make this recipe. It's perfect if you're feeling rushed for time because you will only need 4 simple store-bought ingredients.
It's so easy that the kids could even make their own at the party if you need an activity to keep them busy. These flag cookies start with a graham cracker then adds frosting or whipped topping on top. To finish the cookies you'll add blueberries and strawberries and design your own American flag.
https://theeducatorsspinonit.com/edible-flag-and-crafts-for-4th-of-july/ PHOTOS AND RECIPE HERE: THE EDUCATORS' SPIN ON IT
2. Healthy 4th Of July Yogurt Bites
Foods that come in bite sizes are great because let's face it, kids don't often eat a lot in one sitting. Many of them tend to be food grazers, eat a bit here and little there and that is why these yogurt bites are a great snack idea for your party.
All you'll need to make these yogurt bites is vanilla Greek Yogurt (or your favorite yogurt), strawberries and blueberries. Once you have your ingredients it's as simple as dicing up the fruit, place in a silicone mold and then cover with your favorite yogurt. To set them you'll want to place them in the freezer for at least 2 hours and then they are ready to enjoy!
http://loveandmarriageblog.com/healthy-4th-july-yogurt-bites/ PHOTOS AND RECIPE HERE: LOVE AND MARRIAGE
3. Red, White, & Blue Rice Krispie Bites
Rice Krispie treats are a timeless snack that is loved by both adults and children. They're easy to make, taste delicious and don't need to be kept cold all day long which makes them great for parties.
This tutorial comes with a Rice Krispie recipe that promises to be extra special than your ordinary recipe. Then, by simply added food coloring to the melted marshmallows and butter, you can turn these treats into an extraordinary centerpiece for your table. They'll captivate everyone's attention and the kids will love them!
http://www.twosisterscrafting.com/red-white-and-blue-rice-krispie-bites/?utm_medium=social&utm_source=pinterest&utm_campaign=tailwind_tribes&utm_content=tribes PHOTOS AND RECIPE HERE: TWO SISTERS CRAFTING
4. Mini Ice Cream Sandwich Pops
These ice cream sandwiches will peak the interest of all the kids at your party but make sure to prepare extra because the adults will want in on the fun too.
They're so easy to make that you could even have your own kids join in on the assembling part. All the ingredients are store-bought so there won't be any fancy baking or cooking required. You'll start with regular sized ice cream sandwiches and then secure them onto a lollipop stick to make the perfect ice cream sandwich pop. For an added touch of the red, white and blue theme roll the ice cream sandwiches in sprinkles.
https://www.craftymorning.com/mini-ice-cream-sandwich-pops/ PHOTOS AND RECIPE HERE: CRAFTY MORNING
5. Fruit Sparklers
Sparklers are super fun especially at celebratory parties but they're not appropriate for kids of all ages! You can bring the fun of sparklers to your food table with these fun fruit sparklers for the kids and everyone to enjoy. It's a great way to introduce a healthy snack in an exciting way!
They're so easy to put together, all you'll need is watermelon, fresh blueberries, a star cookie cutter (to make things extra festive) and skewers. This is another easy recipe so you can have the kids get in on the fun of assembling them too.
https://tastesbetterfromscratch.com/fruit-sparklers/ PHOTOS AND RECIPE HERE: TASTES BETTER FROM SCRATCH
6. Red, White, & Blue Bark
When it comes to pleasing kids you can bet your bottom dollar that they love almost anything that tastes sweet and has chocolate in it. This bark is fully made up of chocolate and it is so easy to make.
All you'll need is red, white and blue chocolate and your favorite toppings. The hardest work you'll do in this recipe is melting the chocolate (not actually hard, let's be real). By swirling the colored chocolate together you'll achieve a patriotic treat that looks intricate but was really effortless to make.
https://www.thechunkychef.com/red-white-blue-bark/ PHOTOS AND RECIPE HERE: THE CHUNKY CHEF
7. Patriotic Oreo Pops
Cake pops are all the rage and even popular coffee shops are getting in on this trend. Actual cake pops are quite a process to make but these Oreo pops are so much easier and will make a great addition to your table.
You won't need to bake any cakes or get your hands messy with this recipe. All you'll need is a pack of Oreo cookies, colored candy chocolate wafers, and lollipop sticks. It's as easy as dunking the Oreos in melted chocolate and decorating to your liking. These red, white and blue oreo pops will make a big impact and will definitely be a crowd pleaser.
https://www.happinessishomemade.net/patriotic-oreo-pops-for-4th-of-july/ PHOTOS AND RECIPE HERE: HAPPINESS IS HOMEMADE
8. Firecracker Chocolate Marshmallows
These firecracker chocolate marshmallows are a simple idea but will make a bold impact on a platter. So many kids are obsessed with s'mores or other marshmallow treats but in reality, they would eat marshmallows by the bag if they could.
You'll only need 3 simple ingredients to make these treats. They're so easy you could have your kids make them too. To begin these treats you'll need jumbo marshmallows. Then you'll dunk them in blue colored melted chocolate. To make these patriotic snacks perfect you'll top it off with a red cherry.
https://kidfriendlythingstodo.com/2018/05/firecracker-chocolate-marshmallows-for-an-easy-patriotic-treat/ PHOTOS AND RECIPE HERE: KID FRIENDLY THINGS TO DO
9. Firework Cheese Sticks
Kids will often swarm to the sweet and unhealthy treats that make it to the table but when you can make healthy food look fun, that is how you'll capture their attention. If you need some healthy snack additions to your party you'll want to make these firework cheese sticks.
For this recipe, you'll only need 3 easy ingredients, strawberries, blueberries and mozzarella cheese sticks. They come together in 4 simple steps. It may not be the same as actual fireworks but the presentation of this treat will surely captivate them.
https://thediylighthouse.com/the-captains-log-diy/fourth-july-fireworks-cheese-stick-snack/ PHOTOS AND RECIPE HERE: THE DIY LIGHTHOUSE
10. 4th Of July Firecracker Dogs
This food might not necessarily be colored red, white and blue but it still has a serious patriotic spin to a simple idea. As a bonus, they'll definitely please all the kids at the party.
Hot dogs are salty and savory and are often a crowd pleaser especially when it comes to the kids. These firecracker dogs start with an ordinary hot dog and are then wrapped in breadstick dough and are baked to a golden perfection. To make them extra festive serve them in a red white and blue decorative bucket and top them off with star-shaped cheese.
https://www.handmadeintheheartland.com/4th-of-july-firecracker-dogs/ PHOTOS AND RECIPE HERE: HANDMADE IN THE HEARTLAND
11. Red, White, & Blue Frozen Bananas
Frozen treats are definitely popular with the kids, especially in the summer. Unfortunately, many of them contain loads of sugar. If you're seeking a healthier alternative to a frozen snack to serve the kids this July 4th you'll want to try making these frozen bananas.
You'll start by halving bananas and securing them onto a lollipop stick. Then you'll need to freeze them (at least 2 hours) prior to dipping into chocolate. Then it becomes as simple as dipping the frozen bananas in melted chocolate and decorated to a red, white and blue perfection.
http://www.twosisterscrafting.com/red-white-and-blue-frozen-bananas/ PHOTOS AND RECIPE HERE: TWO SISTERS CRAFTING
12. Red, White, & Blueberry Popsicles (Dairy-Free)
If you have dairy allergies to avoid at your party you'll want to make these popsicles instead. They're delicious, sweet and secretly healthy.
To make these popsicles you'll need to purchases fresh raspberries and blueberries and non-dairy yogurt, which can be found at many local grocery stores. You'll sweeten the yogurt with pure maple syrup and then it's as easy as placing all the ingredients in a popsicle mold. Make sure you make these a day before the party as they'll need to set in the freezer overnight.
http://www.eatingbyelaine.com/2017/06/13/red-white-blueberry-popsicles/ PHOTOS AND RECIPE HERE: EATING BY ELAINE
13. Red, White, & Blue White Chocolate Pudding Pops
This frozen treat looks similar to the yogurt pops but they're actually made with white chocolate pudding instead. They'll only take you 10 minutes to make and calls for 5 ingredients.
To make the pudding mixture you'll combine a package of instant white chocolate pudding with milk and whipped topping. Then you'll add that to layers of delicious berries for a beautiful 4th of July treat. If you don't have a popsicle mold this recipe suggests that a paper dixie cup will work just as great.
https://neighborfoodblog.com/2014/06/red-white-and-blue-white-chocolate-pudding-pops.html PHOTOS AND RECIPE: NIEGHBOR FOOD
14. Red, White, & Blue Cherry Cheesecake Macarons
Macarons are delicate treats that taste wonderful. Every bite tastes like a little cloud just plopped into your mouth. Now this recipe is a little more intricate to make but is well worth the payoff.
Not only will the kids love these cherry cheesecake macarons but the adults will go crazy for them too. This recipe has an easy-to-follow guide on how to achieve the perfect macaron and to make them fit in perfectly with your party! To make them extra special and patriotic they even have edible glitter stars on top.
https://bakingamoment.com/red-white-and-blue-cherry-cheesecake-macarons/ PHOTOS AND RECIPE HERE: BAKING A MOMENT
15. Fireworks Sugar Cookie
This sugar cookie cake is made of delicious ingredients and fun colors and will be another awesome patriotic snack for the kids. Even if you aren't a frequent baker you'll be able to make this recipe.
The secret to making this sugar cookie treat so delicious is to use a lot of butter and sugar and the secret ingredient, cream of tartar. According to this recipe, cream of tartar is what helps the cookies achieve their soft and tender texture. The red, white and blue sprinkles and M&M's help to make this snack suitably patriotic.
https://www.crazyforcrust.com/fireworks-sugar-cookie-cake/ PHOTOS AND RECIPE HERE: CRAZY FOR CRUST
16. Red, White, & Blue Muddy Buddies
If you haven't tried muddy buddies before, you HAVE to try them! They're these addictive little pieces of sweet, chocolatey and crunchy treats. Snacks are some of the best things about parties and the kids will definitely be obsessed with this snack.
This delicious snack will only take you 15 minutes to throw together and you could even make it the day before to save you time but try not to eat it before your party! The base of this treat is rice Chex cereal that gets coated in a sugary chocolate coating that makes them ultimately irresistible.
https://bellyfull.net/2017/06/13/red-white-and-blue-muddy-buddies/ PHOTOS AND RECIPE HERE: BELLY FULL
17. Candy-Poppin' Bottle Rockets
Have you ever met a kid who didn't love candy? I surely haven't and that is why these candy-poppin' bottle rockets would make a great addition to your party.
You don't need to spend a single second in your kitchen preparing these and they're so easy you can have the kids make them too! All you'll need is red, white and blue Life Savors, Air Head candies, Pop Rocks and paper straws. You'll find a step-by-step tutorial on how to assemble this sweet treat making it easy for everyone!
https://www.sheknows.com/food-and-recipes/articles/997225/candy-poppin-bottle-rockets PHOTOS AND RECIPE HERE: SHE KNOWS
18. Brownie & Fruit Kabobs
We don't have to save kabobs for the grill, they make great no-grill snacks too. These red white and blue kabobs are perfectly balanced with healthy fruit and sweet delights like brownie bites and marshmallows that the kids will surely gobble up.
All you'll need to assemble these yummy kabobs is fresh blueberries and strawberries, large marshmallows and brownies of your choice. You could even drizzle them with hot fudge sauce prior to serving for presentation and for added chocolatey flavor.
https://www.melskitchencafe.com/brownie-fruit-kebabs/ PHOTOS AND RECIPE HERE: MEL'S KITCHEN CAFE
19. Patriotic Popcorn
I have yet to meet a kid who didn't like popcorn. It's an inexpensive yet delicious snack that you can make large batches of and this is why it makes great party food.
However, this isn't your ordinary butter popcorn. This popcorn gets a serious patriotic makeover that will definitely be a conversation starter, that is if the kids don't eat it all before the adults get to it. All you have to do is pop the popcorn, lay on parchment paper, and then drizzle melted colored chocolate all over. Before the chocolate hardens you can add sprinkles for more excitement.
https://jamonkey.com/patriotic-popcorn/ PHOTOS AND RECIPE HERE: JAMONKEY
20. Chocolate Chip Cookie Dough Flag Dip
When I think about dip I often think about pizza dip, chip dip etc but I rarely ever think of dip as being a sweet treat. This recipe changes that! Once you make this for your 4th of July party you'll probably find yourself making this over and over again.
If your like me and could eat chocolate chip cookie dough by the bowl if it was acceptable, you'll want to get your hands on this recipe. It's a great way to eat chocolate chip cookie dough guilt-free! This dip is really easy to make and will only require 15 minutes of your time. Once it's made you get to decorate the top with red white and blue M&M's. If you're feeling creative you can recreate the American flag out of the M&M's to achieve an awesome patriotic treat that everyone will go crazy for.
https://www.momontimeout.com/chocolate-chip-cookie-dough-flag-dip/ PHOTOS AND RECIPE HERE: MOM ON TIMEOUT
Blogs are not written by MNC staff.
Original article can be found here: https://www.forkly.com/for-kids/4th-of-july-recipes-for-kids-10-easy-red-white-and-blue-snacks/