25 Healthy Halloween Recipes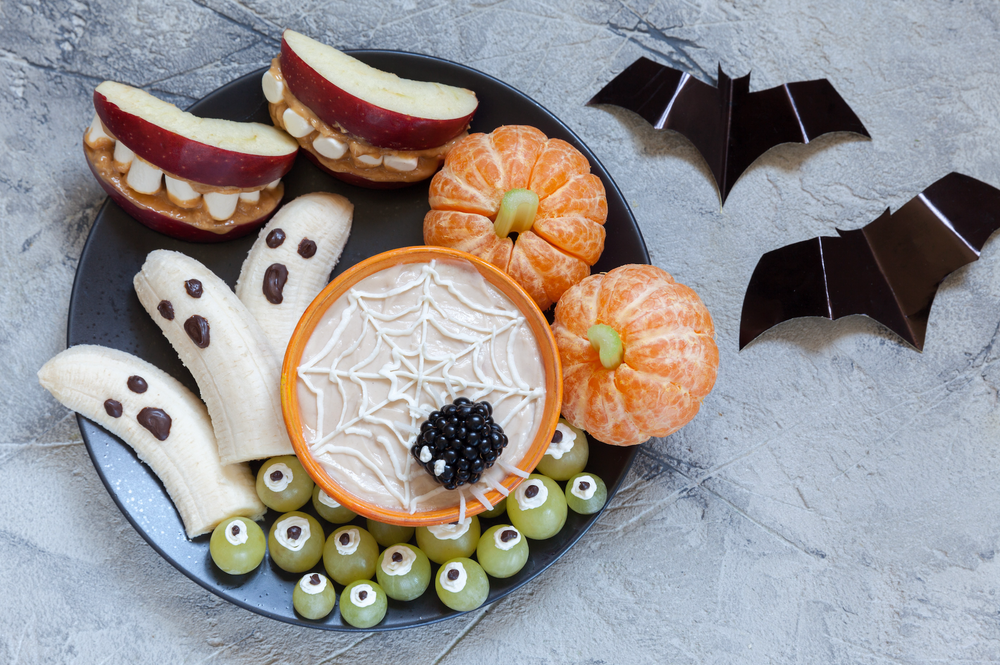 These healthy Halloween snacks and treats are all simple and easy recipes to make that are perfect for a party!
If you're hosting a party or want to make healthier treats for your kids, these delicious Halloween recipes are just the thing!
We've got some savory options and sweet options, but they're all healthier than regular Halloween candy.
These adorable apple monster faces are super simple to make and perfect for the whole family - especially if you like peanut butter and apples!
Healthy soft pumpkin cookies decorated with frosting and candy eyes to make spooky mummy cookies. So cute and perfect for Halloween.
These adorable cheese monsters are a great healthy treat for a Halloween party.
Adults and kids will love these fun Babybel cheese monsters!
Few things are more fun to make than a charcuterie board and probably the most fun board to make of all - this spooky Halloween charcuterie board!
Granola cups are a fun, easy, healthy treat! These have a cozy pumpkin spice flavor and are topped with our favorite yogurt. Add some Halloween faces and it'll be a hit!
These Halloween peanut butter spider cookies are oaty, satisfying and just as delicious as they are spooky!
Treat the kids to a healthy Halloween fruit salad, the kids will love all the natural sweetness from this great selection of fruit.
This cute veggie skeleton is a great healthy Halloween recipe!
With sweet potato jack-o-lanterns, beet root witch's hats, and spooky potato ghosts, these savory Halloween Roasted Veggies are a healthy Halloween dinner recipe!
This dark chocolate and quinoa Halloween bark is the perfect use of extra candy. The toasted quinoa adds a nice nutty, and crunchy element to your chocolatey bark.
Halloween Mummy Pizzas – is the perfect Halloween party or dinner idea. Make these mummies with your kids for an easy and super flavorful Halloween-themed meal. These mini pizzas are also gluten-free!
The perfect fall-themed healthy snack– Pumpkin Hummus for Kids!  It's delicious and even looks like a cute pumpkin! 
Easy yogurt-dipped banana popsicles in the shape of mummies and ghosts. Fun to make with kids and the perfect healthy Halloween snacks for school or home.
These Franken-kiwis are an easy, really cute, healthy Halloween treat! And so fun to make – like yummy little Halloween craft projects! They're perfect for Halloween fruit trays, fun after-school snacks, and as edible Halloween party decorations!
This healthy Halloween Hummus Dip is loaded with layers of fresh veggies and a fun tasty greek yogurt spider web!
These easy Witch's Broomstick Snacks are sure to be a big hit at any Halloween Party.  The snacks are simple to assemble and when stood up fill a nice amount of space on a Halloween party buffet layout.
These cute Halloween Pumpkin Deviled Eggs are shaped like pumpkins and make a tasty snack or appetizer! They're fun to make and will delight everyone at your Halloween party.
This Monster Halloween Popcorn is one of those easy Halloween treats that require only 5 ingredients and a few minutes to whip up.
These super fun Frankenstein Halloween Sandwich Wraps are a must-make and can be filled with your favorite type of wrap or sandwich ingredients!
Our favorite Halloween snack ideas for school …cute, easy, non-candy ideas that kids will love!
A fun easy Halloween or everyday snack that your kids can make.
The classic witch fingers cookies get a healthy, gluten free, paleo, and vegan makeover! They're easy to make and always a hit at Halloween parties!
Having healthy ingredients on hand can be magically turned into fun, holiday-inspired food like this Witchy Guacamole Dip. 
These pretzel spiders are a healthy snack for kids, perfect for Halloween. They're made from date peanut butter oat energy bars and pretzels. They are simple and really quick to make. Your kids will love them!
These super cute mandarin orange 'pumpkins' are so easy to make! They're a great healthy afterschool snack or fun for a classroom party.
___
This blog page features content from an external source. Find the original content
Here.
While efforts have been made to ensure accuracy, any discrepancies are the responsibility of the source. The content is shared for educational or informative purposes. Views expressed belong to the original creators, not the author of this blog.