21 Simple and Easy Picnic Snacks for Kids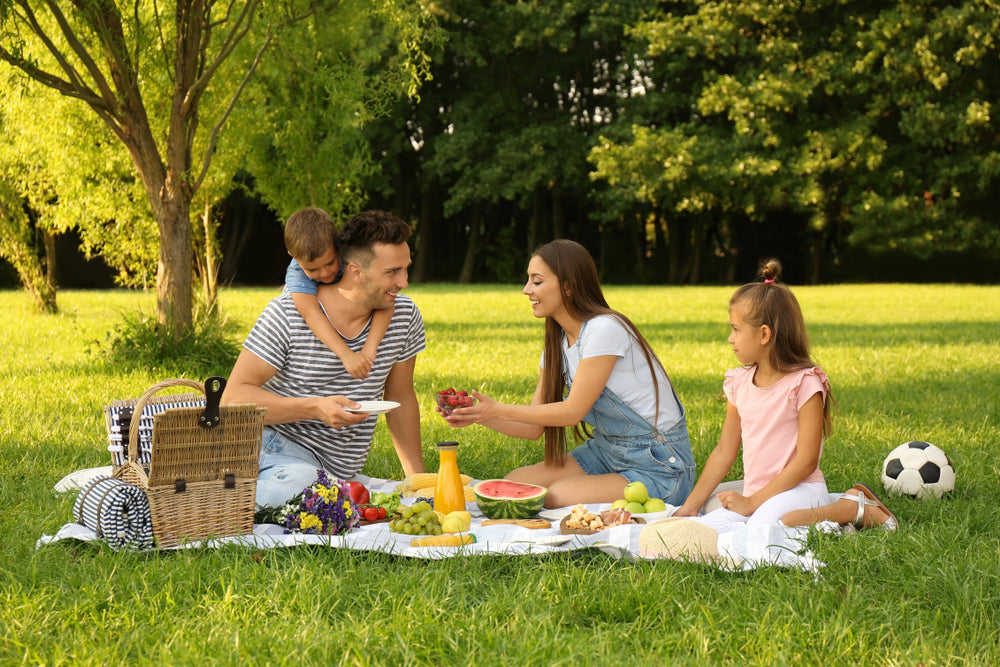 It's prime picnic season, so make sure you're prepared with a full lineup of crowd-pleasing picnic snacks. From no-cook s'mores to deviled eggs, we've got you covered with easy picnic snacks and picnic food ideas for kids that you can tote to the park, beach, or wherever else your summertime adventures take you.
Fruit Dip
Fruit is always a good picnic snack, so take it to the next level with this easy dip from Chelsea's Messy Apron. With just four ingredients, it's an easy addition to your al fresco menu. 
Air Fryer Soft Pretzels
Fluffy and salty, air fryer pretzels are a super easy snack to pack for your upcoming picnic. Enjoy a la carte or pack a special dipping sauce to them to the next level. Head to Bitz & Giggles for the full recipe.
Fried Lemon Hand Pies
No one wants a messy meal when it comes to a picnic! These fried lemon hand pies pack all the sweet punch, can be made in advance and keep the mess to a minimum. Head to Food Fanatic for the full recipe.
Sushi Sandwiches
A sandwich is just a sandwich until you make it look like sushi! We love this tuna fish version from Weelicious, but you can swap in turkey or cream cheese for something different. 
Corn Dog Mini Muffins
Who wants regular muffins when you can bring corn dog muffins on your picnic? Made with cornbread and hot dogs, these fun snacks make mealtime fun. Don't forget the ketchup! Head to Karen's Kitchen Stories to snag the recipe.
Simple Deviled Eggs
What's a picnic without deviled eggs? With this super simple recipe, it's easy to ensure that your al fresco meal includes this delicious staple. Older kids can even make their own version! Grab the how-to here.
Mac and Cheese Cups
Ready for mac and cheese, picnic-style? These awesome bites from Damn Delicious are an easy way to make your picnic menu even more kid-friendly. They're portable, the perfect serving size, and tasty, too! Get the recipe here.
Strawberry Oatmeal Bars
Since picnic season usually collides with the strawberry season, we can't think of a better sweet treat for your outing than these oatmeal bars from Well Plated. They're easy to make, about 100 calories each, and sure to become a family favorite! For the recipe, click here.
Mexican Corn Salad
Love Mexican corn on the cob, hate the mess? Whip up a batch of this dip from Damn Delicious, which has the same tasty flavors but no cob cleanup! Pack it into a Tupperware for easy dipping or spoon individual portions into mason jars—voila! You can snag the recipe here.
Monster Cookie Energy Bites
It's easy to get your picnic cookie fix, thanks to this idea from Love to Be in the Kitchen. They're packed full of peanut butter, chia seeds, honey and mini M&Ms, which makes them excellent fuel for all that post-picnic playtime. Get the recipe here—and discover more energy bites here!
Ginger Lemonade
The best way to keep cool during your picnic? With a batch of this fresh ginger lemonade by Daphne Brogdon! Make it the night before and portion it out into mason jars or water bottles to stay hydrated all afternoon long. To get the recipe, click here.
Sandwich on a Stick
This idea from Super Healthy Kids gives sandwiches a fun new twist! Get the kids involved with cookie cutters and they'll love stacking their favorite sandwich ingredients. To get all the details, click here.
Single Salads
Part of Hello Wonderful's Cooking with Kids series, this unique take on salad features colorful ingredients the kids will be excited to prep and eat (Psst! And cleanup couldn't be easier!). To get the recipe, click here.
Crunchy Cheerios Bars
This sweet and salty treat from Averie Cooks is sure to satisfy even the pickiest picnic-goer. The best part? No baking required! Find out what you'll need to get started over at Averie Cooks.
Apple Sandwiches
The Merry Thought's sweet twist on sandwiches is better than sliced bread! Load up the apple slices with your fave nut butter, Nutella, granola or any other creative ingredient. Click here to get the recipe.
"Cheaters" Guacamole
Even the littlest chef can help mash and mix avocado! We like this "cheaters" guacamole recipe from Averie Cooks, which makes it easy to make a delicious dip ASAP. Visit Averie Cooks for the full recipe.
Crunchy Cucumber Sandwiches
Need a meat-free option for your next picnic? This healthy hummus sandwich from HowDoesShe is super easy to assemble and packed with protein and a little crunch. Yum! To get the recipe, click here.
Rainbow Fruit Cup
These ultra-colorful fruit cups are easy to assemble and packed with healthy Vitamin C. Older chefs can even help cut the fruit! Head over to My Frugal Adventures for advice on choosing the best stackable fruits.
No Cook Nutella S'mores
You won't have to build a fire to enjoy a campfire staple. This tasty twist on the classic s'mores dessert makes it great for daytime picnics, too! Find the recipe at 5 Minutes for Mom.
DIY Trail Mix
This fab picnic snack is easy to customize with everything from pretzels to nuts, dried fruit, or bite-sized chocolate chips. It's the perfect portable treat for a day at the park! Get more info (including recommended ingredients!) at The Chirping Moms.
Pretzel Skewer Roll Ups
Amp up your picnic with edible pinwheels! These bites are easy for kids to assemble with cheese and deli meat. A Mom's Take used pretzels as skewers in lieu of toothpicks.
___
Blogs are not written by MNC staff.
Original article can be found here: https://tinybeans.com/easy-prep-picnic-foods-for-kids/