10 Incredible Facts About January Babies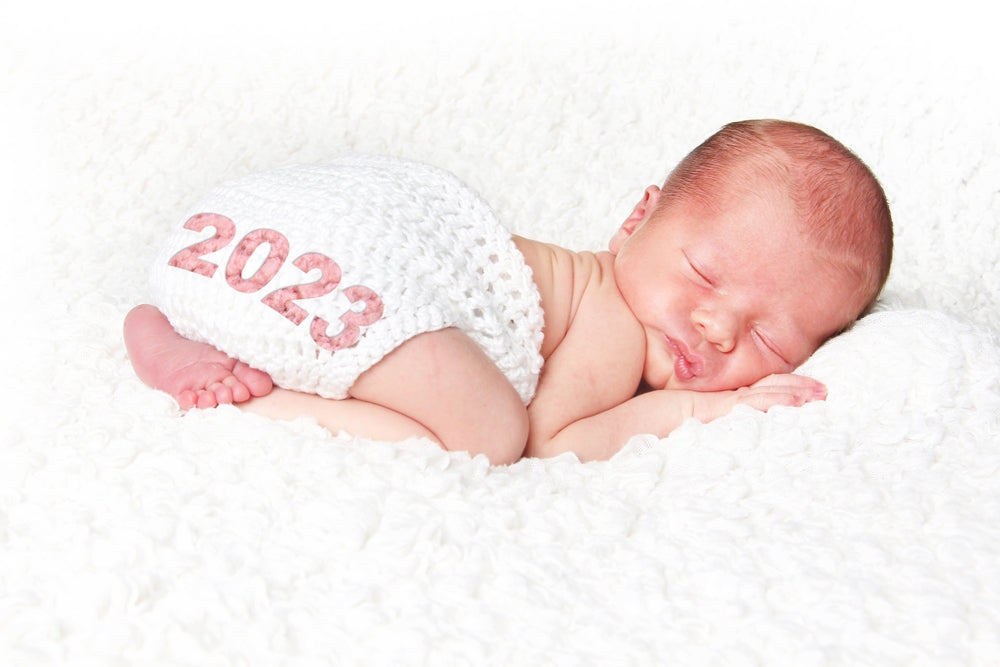 While Baby New Year gets a lot of attention this month, all January babies are pretty special. If your little one is born in January, research suggests they've got a lot of working in their favor. Studies show that being born early in the year could be an advantage in school, sports, or in their careers! Keep reading to learn more about your January baby's birth month.
January babies have a fiery birthstone.
While their birth month is all things snow and ice, January babies' birthstone, the garnet, is a deep, fiery red. This stone is said to symbolize friendship and trust (two traits that hopefully your baby will inherit, too!). It doesn't hurt that garnets look fab with both silver and gold (in case you were planning on treating yourself to birthstone jewelry).
January babies have two flowers.
Both the carnation and snowdrop are considered January birth flowers. The delicate, white snowdrop—one of the first buds to poke its petals through the ground in the spring—seems like an apt pick for January. And carnations are a bright spot in an otherwise dreary time of year.
January 
babies share a birth month with 
these
 celebs.
Your little rising star will be in good company. A-listers born in January include mega-stars Oprah Winfrey, Ellen DeGeneres, Justin Timberlake, Bradley Cooper, Florence Pugh, Renee Elise Goldsberry, Mary J. Blige, Issa Rae, Julia Louis-Dreyfus, Regina King, Dolly Parton, Alicia Keys, and Kerry Washington!
January babies may have a leg up on the sports field (or ice rink).
Is it time to sign up for pee-wee soccer? Researchers in Australia found that there were 33% more January babies than expected playing in the Australian Football League. The study's authors say these findings are consistent with other studies that have found a connection between babies born at the beginning of the year and the likelihood of becoming a professional athlete. In fact, another study found that 36% of the hockey players drafted by the NHL between 1980 and 2007 were born between January and March.
January babies have leadership potential.
That corner office is within reach of your baby's chubby little hands! Research published in the journal Economic Letters found that January is one of the top five CEO-producing months (March, April, November, and October are the other four).
January babies could be on the path to their MD.
Paging Dr. January! The most common careers for January babies were general practitioner and debt collector, according to one British study, that looked at the correlation between birth month and profession. (In other words, get your little one a toy stethoscope, stat!) Conversely, January babies tend not to pursue careers in real estate.
January babies are pretty chill.
The weather of their birth month isn't the only thing that's cool! Babies born in winter months are less irritable than people born in other seasons, according to a European study.
January birthdays are 
super special.
Despite the star power January has, chances are your little January babe won't share a birthday with too many classmates. Only one January birthday lands among the top 200 most popular birthdays…and that's January 24th all the way down in spot 199! And January holds one of the rarest birthdays of all: January 1st, which falls in the 365th spot (it's safe to assume that not too many folks want to ring in the new year with a scheduled c-section or induction!).
Blogs are not written by MNC Staff.
Original article can be found here: https://www.happiestbaby.com/blogs/baby/january-baby-birthday-facts